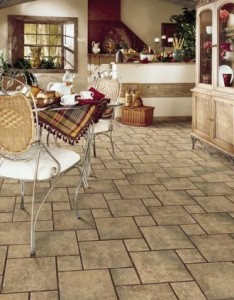 Contaminants and Spills on Glazed Ceramic Tile are, generally easy to clean. Glazed Tile Products should be cleaned routinely with an all- purpose, low VOC household or commercial cleaner. The product should also be Grout joint cleaning compatible.
The entire area should be cleaned and scrubbed with cleaner solution through the use of a cotton mop, cloth, sponge or non metallic brush. The entire area should be rinsed with clean water to remove any cleaning solution residue.
Remember that you should sweep or vacuum floor areas prior to cleaning to remove dust or debris, Cleaners should never contain hazardous or polluting products including, but not limited to acids or ammonia. Acids can damage grout, and ammonia can discolor grout.