General Rules of Cleaning No-Wax Vinyl Floors
When your no-wax vinyl floor needs cleaning, wash with a cleaner made specifically for no-wax vinyl floors. If you have older vinyl floors that requires waxing, clean it with a warm water and detergent. Dampen a mop or sponge with the mixture and rub the floor just enough to loosen the dirt. Try not to rub off the wax because you'll just have to reapply it. Rinse with clean,cool water-no matter what the label says about not needing to rinse- otherwise you'll leave a residue.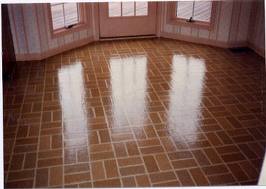 "No-Wax" really means "Don't Wax"
Protecting the Sheen of No-Wax Vinyl Floors
No-wax vinyl has a clear polyurethane coating that makes it shine. Wax won't adhere to the coating and you'll leave behind a mess that won't strip off. (Don't use mop and wax products either) If your no-wax floor looses it's shine restore it with a polish or sealant made for no-wax flooring. Make sure the floor is thoroughly clean and apply one to two thin layers as directed. It should keep your floor shining for at least a year with routine damp mopping. If you have an older floor that requires waxing, wax wax when it looses its sheen, but use only the amount called for on the container label.
Are your floors still looking dull and dirty? Contact us today and we'll recommend the best way to restore your floors to the original sheen and cleanliness.