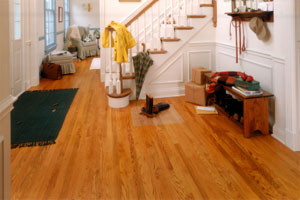 Gatesway Cleaning & Restoration is the place to call in Chautauqua and Warren County for your wood floor refurbishing needs.
Water, dust and improper care can damage a sealed or waxed floor finish. In many cases this damage can only be repaired by having the floor refinished.
Wood Floor Refurbishing Experts
Our expert certified cleaning professionals will restore the look and luster that your hard wood floors once had. Our unique dustless refurbishing process will leave your wood floors looking great again.
Wood Floor Care Tips
Sweep or dust-mop on a daily basis.
Avoid getting water on your hardwood floors.
Clean up any spills immediately using a dry soft cloth.
Never use a vacuum with a beater bar on your hardwood floor.
Use walk-off mats at all entryways to help reduce the amount of dirt that gets tracked inside.
Contact Gatesway Cleaning & Restoration to schedule your appointment for our dustless and professional wood floor refurbishing.